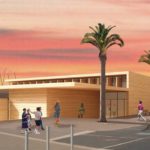 SAILING SCHOOL
FREJUS SAILING SCHOOL
Program : Watersports Center in Frejus. S.H.O.N : 2,100 sqm
Highlights : Located in the Frejus beaches area and along the Boulevard of Algiers, the project includes a city sailing school, a watersports club and a youth center.
Parallel to the road, stretched on all the length of the plot, this fragmented project is gathering clearly all sections.
The volumes and materials used, such as wood, glass and stainless steel helped to get a good maritime integration as well as to maintain costs reductions.